I am so proud today because we have exceeded our target of 1000 dresses!! A HUGE thanks to everyone who has made and sent dresses or donated fabric or sent money to cover postage costs. What an amazing achievement. 620 dresses have been distributed so far (in fact some are being given out in India right now!) and the rest all have homes allocated and will be going to various developing countries over the next few months. We don't want to stop now though. The next target is 2000 dresses!!
I've received lots of lovely dresses over the past week or so which I want to share. The first parcel of dresses and the ones to take us over 1000 dresses were from Jo and Annie, two sisters who have been instrumental in helping me reach the target. To date they have made 371 dresses between them!! These were their latest 32 although I am reliably informed that there are more on the way!
You can see from Jo and Annies dresses and the speed at which they make them that they are experienced seamstresses. I was curious to find out more about their sewing background and their motivation to get involved with 'Dress a Girl' which they very kindly agreed to share on the blog. This is what they told me....
We really have loved making the little frocks for the "Dress a girl around the world scheme". It started as just a litttle something that we thought we could do with some of our own fabric stash but then snowballed into a slightly bigger project when our blog friends and customers etc gave us their spare pillow cases and duvets. Everyone has been so pleased to join in and we have loved seeing the most plain and ordinary fabrics transformed into pretty little frocks.
We also made a few pairs of shorts from recycled T shirts for the boys and think that might be something we might continue with this year.
We both have a life long love of sewing - we think we inherited the gene from our Grandma who was a wonderful needlewoman all of her life and lived to be 100!!

We both had a brilliant needlework teacher, Mrs Woodroffe at the Priory Girls School Shrewsbury. She taught us all we needed to know and certainly gave us opportunity to develop our dressmaking skills.

Over the years we have made our own wedding dresses and outfits for Mum, Grandma and elderly aunts and of course - many for our children and Annie's grandchildren

We both love a wide variety of crafts including kniting, crochet, needlefelting, bobbin lace making.

We make puppets, dolls, soft toys, patchwork, applique - well anything really!

Annie runs a full time sewing business (alterations & repairs). She tackles anything from bridal gowns to biker gear including repairing accessories for hot air ballons, boats, tents & caravans!! The only things she really hates are curtains so she calls on my help for cutting and measuring. We make a great team.
I also wanted to put faces to the names so here are the lovely Annie (Wipso) and Jo (Twiglet) in action. Thank you lovely ladies!
Another gorgeous parcel arrived from the lovely people at the Kinsley and Fitzwilliam Craft Group. They sent me a fabulous 13 dresses.
They also included 5 pairs of shorts. These will be off to Uganda in June.
Wait - theres more!
Gorgeous purses
Fabulous little bags. Each included a dress or pair of shorts. Imagine how excited a child will be receiving one of these!
AND some beautiful hair bands
Modelled by my friends daughter Amelia. Thank you so much. What an amazing parcel of goodies.
Two different lots of dresses on the washing line here. On the top we have another parcel of dresses from the lovely Patricia who sent 8 more gorgeous dresses (one is not in the photo but I do have it!!). The bottom dresses are from a lovely sewing group called The Bath Short and Sharp Sewing Gang who sent 6 pretty dresses. You can see more photos of their makers

Jane, Sarah, Rebecca, Wai, Lola and Kerry

here.
and last but not least another 21 gorgeous dresses from the very kind Pamela who I know is busy making shorts as we speak. Have a look here for inspiration.
I am, as ever, quite overwhelmed with peoples generosity and kindness (and dress making skills!). The total as of today is 1078 dresses and I still have 2 parcels I haven't opened yet! I managed to break my toe yesterday which has kind of made doing anything difficult!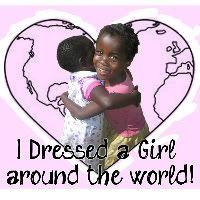 If you have made a dress please remember you can take a blog badge to put on your blogs and/or websites (see my side bar for the code). These show you have contributed to 'Dress A Girl' and will also link back to the information page on my blog if people click on them. Please can you blog, tweet, facebook about Dress a Girl and reaching 1000 dresses so we can encourage new people to join in and help us meet our next target.
Well done everyone!!